Welcome to AE4RV's Amateur Radio pages. FISTS# 10626, SKCC# 5536, NAQCC# 3695.
QSL direct, or via FISTS Bureau. I do not yet exchange electronic QSLs. I am also good with the SKCC Bureau.

Popular stuff: Propagation Primer, Virtual Bug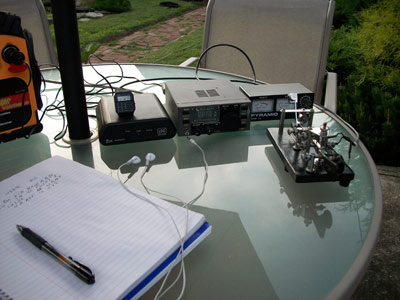 My current WAS (Worked All States) totals:
Mixed Mode: 49 total, 46 confirmed
CW (Morse): 48 total, 46 confirmed
Still need AK, and NV for WAS CW.

NEWS:
July, 2010: Made some progress on my "worked all states" award. I just worked W6GX in Idaho, both SSB and CW, and got Hawaii recently (CW) in the IARU contest. Just two more to go, or one more for WAS mixed mode, but I want CW only. Last night I worked K3WWP who was running less than a watt (QRPp) while enduring some heavy static (QRN) but we did OK. I'm off to help with a VE exam at the Red Cross...
February 8, 2010: The "anipals" who reside at the AE4RV QTH found a spotlight on the K1NSS "Dash Toons" website! Check it out.
July 19, 2009: I've been really enjoying operating in the back yard with my k1 and I've started to use a 1944 Vibroplex Lightning Bug. I make some mistakes but basically have it under control. It is so much fun!
July 1, 2009: I made a lot of contacts on Field Day from home, I even stayed up all night Saturday but, unfortunately did not get a new state. I think these last four are going to be rough. I did get a third HF antenna up, however, and it seemed to perform pretty well. It is another end-fed "zepp-like" antenna, identical to the one I threw over the roof when I first got active again recently. But, this time I installed it with a little more care. It slopes in the back yard from 8 feet to 24 feet on poles, out in the open. It runs due North/South. Currently the original zepp is connect to my 706MKII which is now used for 2M operations and HF monitoring (no tuner). The new zepp and trusty 20M dipole are connected to the 746Pro. This is now probably the best Amateur Station I've ever had. (Sad but true, hi). Now I just need some sun spots to compliment it...

Did anyone else notice pretty good 15 meter propagation during Field Day? It was more or less open Saturday afternoon and long after sunset at my location.

Tomas Hood is starting a space weather and radio related podcast, be sure and tune in.
June 2, 2009: Last Sunday I operated casually in the CQ WPX contest in our beautiful little back yard with my Elecraft K1 QRP transceiver, using battery power. This was actually the first time I have used the little rig and it performed flawlessly. I even got some good DX including Serbia, Hungary and Germany. I also got a new CW state, Iowa. I have an RTTY contact from Iowa in my log but didn't have CW. I eventually brought out a laptop so my brother could participate via Skype. I had him lookup up callsigns for me. Next time I might make him run the log, too. He seemed to really enjoy it and share in the thrill of hearing my callsign come back from distant places using only five watts. Last night I had a long CW QSO with a nice gent in Texas and then I did a little more QRP in a small contest, where I contacted my old friend Mike, AF4LQ. When I logged that I noticed it has been 10 years and two weeks since Mike and I last conversed in Morse Code. Sheesh.
Mid May, 2009: I've started using the 746pro again, really love that rig. I've erected my old 20M dipole (new coax, though) and recently started using a Vibrokeyer Deluxe (1971 vintage) that I bought a few years ago and put on a display shelf. I really like it which is funny because I have ALWAYS used a straight key. I still keep a straight key plugged in and sometimes use it, especially when working very slow CW. I've been spending time around 7.115 MHz where a lot of casual slow to medium slow speed CW takes place. I'll try to get some station pictures up soon. This extended low end of the solar cycle is very frustrating...just wanted to get that out again.
May 1, 2009: Last weekend I threw a 75' end-fed zepp over the roof and got back on the air. KB4JR was my first QSO in several years. Thanks, Bernie! Really enjoying 30M CW and have been working 40 and 80, too. Might have to unbox the 746Pro soon...
April, 20, 2009: BREAKING NEWS: After a very long period of inactivity I'm starting to get really interested in operating again. This past weekend I selected one of my radios, temporarily erected my 20M dipole (way too low) grabbed my little 12v battery and operated in my new back yard for most of Saturday afternoon. I didn't get any contacts but I had a lot of fun "pretending" and practicing and getting reacquainted with my little 706 MKII. And I copied some CW, even (bravely) answered a couple of CW CQs with a straight key. But, sadly, I was not heard. The dipole is currently only about four feet of the ground, which is way too low. Lack of sunspots isn't helping, either. I need to set up a small antenna farm and I want to try 30 meters this time around. My first radio didn't have that band and I don't recall ever using it, not much, anyway. I've noticed this weekend that 30 and 40 are doing better than 20 in this tough time with no sunspots. It was a tough time in the sunspot cycle when I first got licensed back in 96, too. Good times.
January, 23, 2006: Today is the 10th anniversary of my first Amateur Radio license! (yep, I renewed it already). Hard to believe it's been 10 years -seems like six, or so...
I'm not really active right now but I will be again someday. These days work, extra work, my small business and other hobbies take up my time pretty thoroughly. 73 to all - see you on the air again someday, soon I hope!
November 2004: The Propagation Primer and the Virtual Bug get mentioned in the ARRL Surfin' column! Thanks!
October 2004: Ever see a cartoon about Short wave numbers stations?
April 2004: My friend and coworker, Ben WIlson, got his ticket - He is now KI4EZO - congrats, Ben!!
March 2004: New Radio - Icom 746Pro. I can't say enough about this rig - the digital filtering is tops. I may never buy another crystal filter again. Certainly not for this radio...
Early 2004: I put up a new antenna - a 50' random wire in sort of an inverted "U" shape. This compliments my 20M dipole nicely and I can now work all the HF bands...some better than others...
Late 2003: After nearly four years of radio-inactivity I have gotten back on the air. Soon after I took my dusty, unused station apart to make room for a printer I decided that I wanted to get back on the air! I knew that would happen. So, this time, I purchased a used Icom 706 MKII and set up a small station (between the PC and the printer).
Since getting back on the air I have started working with HF digital modes for the first time - mostly RTTY and PSK31. I have also been practicing my Morse skills and doing quite a bit of CW. I joined the FISTS CW Club to help me get back in to the world of CW and also to help get that WAS-CW award ;)
1996: I was first licensed in January, 1996 as KF4GGS. I had been a longtime SWL and even knew some Morse code before I decided to go for my ticket. I studied really hard and less than three months later I passed the 13 and 20 wpm Morse code tests and all the written tests required for the Amateur Extra Class license, thus becoming AE4RV. Within six or 12 months I purchased my first HF rig, a beautiful old Yaesu FT-101ZD (I still have it). Finally, I was on HF! I had dreamed of that when I was a kid. (I've left out some names of people who helped me once I got my first ticket and actually got to meet and talk to local Hams - I hope to expand this little history thing soon...)
Late 1995: I've been a short wave listener (SWL) off and on since the late 70s. In the 80s I even bought a cartridge for my Commodore 64 computer that let me decode RTTY and Morse. In 1995 I was nearing completion of my technical degree and studying Morse code (for fun). I wrote some software for the Amiga and later DOS PC to help learn the code and I even devised a way to help learn sending code by myself. I dusted off the old Commodore 64 and plugged a straight key in to my aforementioned radio cartridge and watched as the characters that I was "sending" got displayed on the screen. I quickly discovered that my Ys and Qs were not too good!
A friend at school (Gary) who already had a Technician class license (I can't remember his call) learned of my activities and encouraged me to get my ticket. He couldn't believe that I was practicing Morse code for "fun"! So, I bought a study book at Radio Shack and struck up a conversation with the store clerk, also a Ham (whose name and call I can't remember), and he told me about the local clubs and where to take the tests. I studied that book pretty hard and continued with my Morse code practice and got my Tech+ in January, 1996. I had nearly perfect copy on the five WPM Morse exam, hi hi.