Amateur Radio Educational Materials by AE4RV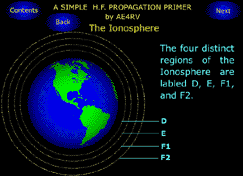 HF Propagation Primer: a simple tutorial on HF (HIGH FREQUENCY or SHORT WAVE) radio propagation. Want to brush up on the basics? Forgot what the D Layer is? Wonder why AM broadcast radio stations come in from so far away at night? Confused about the numbers used in space weather reports? This is for YOU. Requires FLASH plugin, which you probably already have.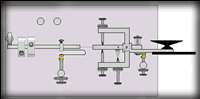 The Virtual Bug is a Flash piece that I developed for visualizing how a Morse Code semiautomatic key works. I never could picture how these things worked until I finally got one. I made a "virtual" bug so that others could see it work, too. Sorry, there is no Vibroplex logo.
Morse Quiz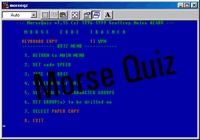 Whether you are just learning the Code or want to improve your speed, my MorseQuiz software for DOS/Windows PCs will help. It's incredibly small at only 53K...small enough to send over slow packet networks at 1200 BAUD. It's best feature (and the reason I originally wrote it) is it's ability to give random code quizzes AND check your score for you. It was written on a very old 8088 PC running DOS, but it works fine on newer computers running every version of Windows that I've tested it on, including 95, 98, NT, 2000 and XP. MorseQuiz uses the PC speaker and does not need a sound card.
It's not pretty but it helped me tremendously. Give it a try. - AE4RV (By the way, Morse Code is FUN).


Here are a few good links to get you going: